Retail Banking
Retail banking is an excellent way to provide more client services and to create another revenue stream for representatives.
---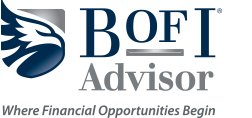 GWN Securities has forged a relationship with BofI Advisor, an industry leading banking solution, for independent professionals.
BofI Advisor is a wholly owned subsidiary of BofI Federal Bank. BofI Holding, Inc. (NASDAQ: BOFI) is the holding company for BofI Federal Bank, a nationwide branchless bank that provides highly competitive consumer and business deposit products to its customers. With approximately $5.5 billion in assets, BofI Federal Bank provides financing for single and multifamily residential properties, small-to-medium size businesses in target sectors, and selected specialty finance receivables. BofI Holding was recently named the top performing large thrift in 2012 by SNL Financial. BofI Holding, Inc.'s common stock is listed on the NASDAQ Global Select Market and is a component of the Russell 3000 Index. For more information on BofI Holding, please visit www.bofiholding.com.
BofI Advisor
For the customer looking for secure banking products, BofI Advisor offers a comprehensive mix of products, competitive rates and custom-tailored service, all backed by the security of the FDIC. With BofI Advisor, you can feel confident you've made a smart decision.
Products and services available through BofI Advisor include:
Products offer an intelligent combination of convenience, flexibility and accessibility. Our competitive returns are available to you through your financial professional.
BofI Advisor is a model of stability and security featuring innovative FDIC insured products that you can feel good about.
Customer service is never more than a click or call away. Real people, really available.
Benefits:
Highly competitive interest rates
No monthly maintenance fees
High-yield, low cost business accounts
Free Mobile Deposit - Deposit checks instantly 24/7 wherever you and your phone go
Free MyDeposit - Deposit checks instantly from the comfort of your home or office
FDIC insured up to $250,000 (Certificate 35546)
---
Please contact GWN Securities for more information via the Contact Us page.
---
Stock, bond and mutual fund prices fluctuate and shares, when redeemed, may be worth more or less than your original investment.
For more complete information and to carefully consider the securities offered, including your investment objectives, risks, charges, expenses and fees, please request a prospectus from your GWN Registered Representative. Please read it carefully before you invest or send money.